From April 18 to April 29, Dr. Monica-Mihaela Rizea (Bucarest) spend a Short Term Scientific Mission (STSM) at the IEAS.  Monica's stay was supported by the European research network Parsing and Multiword Expressions (Parseme).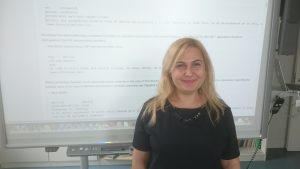 The purpose of Monica's visit was to work on an online documentation of multiword expressions in Romanian  and on a collection of Romanian Negative Polarity Items (NPI) that is hosted by our department at https://www.englishlinguistics.
de/codii/.
We used the two weeks of Monica's stay very productively: Enriching the Romanian MWE documentation also led to a serious improvement in the corresponding documentation for German MWEs. We put an emphasis on the syntactic flexibility, which is a dimension that has received less attention in these two documentations so far.
Dr. Gianina Iordăchioaia (Stuttgart), the original author of the Romanian NPI collection, spent one day with us
in Frankfurt and we discussed and decided on extensions and improvements in the encoding of the collection.
Monica also presented her work in our colloquium and had the chance to meet with several colleagues from Frankfurt.
Links: