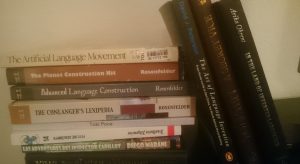 One day before the start of the annual conference of the German Linguistic Society (DGfS), the society's Lehramtsinitiative organized its traditional information day for teachers. This year's topic was Welche Grammatik braucht die Schule? (What kind of grammar is needed for school?). The event included a 2-hour working group on conlanging under the title Kreative Grammatikreflexion: Sprachen erfinden im Grammatikunterricht. This working group was organized by Alexandra Zepter (Cologne), Judith Bündgens-Kosten (Frankfurt) and Manfred Sailer (Frankfurt).
The information day started with a plenary talk by Matthias Granzow-Emden (Potsdam). He argued in favor of the systematic use of topological fields in teaching of grammatical notions for German. After a short coffee break, the participants chose one out of 9 working groups.
Eight participants attended the conlanging working group. None of them had previous extensive knowledge about conlanging. Given the interests of the three organizers, the topic was approached from the perspectives of "language as a system", "language awareness", and "complexity of language". There was a very lively and constructive discussion and exchange of ideas. The material used in the workshop together with some additional resources is available online.
Links